Home Decor
Tips For Outdoor Entertaining + How To Fold Linen Napkins
Jul 31, 2018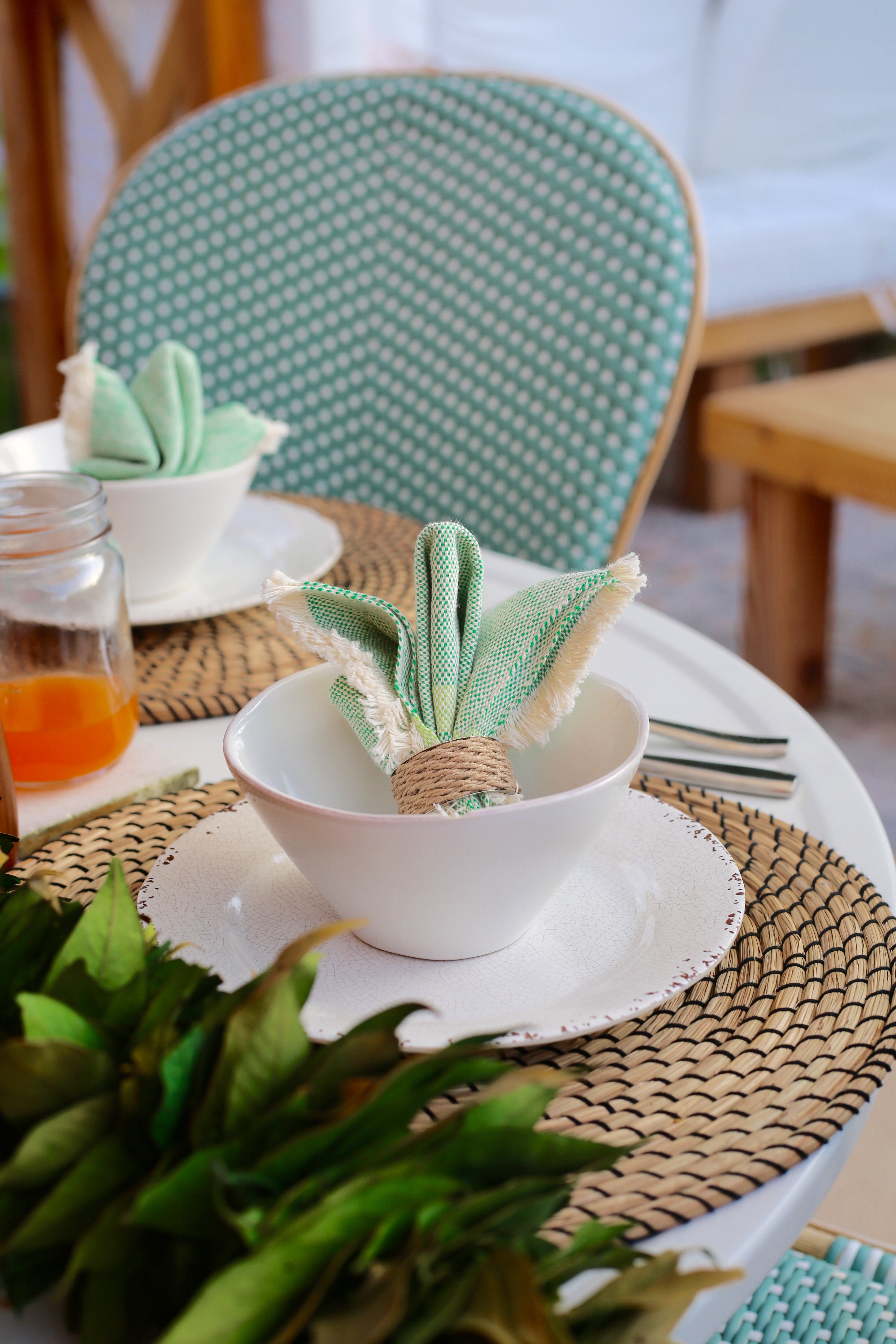 Outdoor entertaining shouldn't be stressful. Your guests are coming for you so they will love it no matter what!
and if they don't love it, you might need less critical friends haha…but seriously.  
Here are a few quick tips to MASTER easy outdoor entertaining: 
1. Add Greenery
I suggest adding greenery (rather than flowers) as the table centerpiece.
Especially if your space is limited or your table is small.
Greenery is nice because it keeps the "outdoor" theme (even if your garland is fake).
I am normally ALL about flower arrangements but outside elements (wind, rain, intense heat, etc) don't always work well with flowers for a long dinner party.
While I'm hosting, I want to focus on my guests, not wondering if the wind knocked another table vase over.
Plus, green goes with everything. It's a neutral in my book.
2. Mood Music
I like to connect my phone to bluetooth via outdoor speakers (that my mom got at Costco and eventually gave to me) up to a summer playlist to keep things upbeat, positive, and chill. You can find outdoor speakers on Amazon HERE.
Background music is a must for outdoor entertaining, because it relieves any unwanted tension between strangers or those with social anxiety.
The goal is to help your guests feel as comfortable and happy as possible.
If you're into classical, indie, oldies, go with those! Just stay away from top hits or techno….unless you're hosting a bunch of dancers (then by all means)!
3. Quality Dinnerware
I love the way heavy dinnerware feels.
I like knowing it's well made and presentable.
It looks nice stacked or by itself.
I prefer a neutral color like white, cream, ivory, or grey that way I can add color elsewhere.
4. String Lights
This isn't a must, but it certainly helps.
String lights are classic.
They elevate the ambiance like nothing else.
They define a space – no matter how big or small.
You can find my string lights in this post if you scroll down HERE.
5. Linen Napkins
Remember when I talked about adding color? Linens are a great way to do this.
I chose these stunning, handwoven napkins in Lime and the texture is even more beautiful in person!! You can find different options HERE.
They are naturally dyed by using local plants instead of toxic chemicals.
Sales from these gorgeous napkins go back to the women artisans in Nicaragua who made them (so that they can support themselves and/or their families).
I'm in love with details so I truly think linen napkins (folded anyway) truly complete the look.
Once you have your colorful linen napkins, follow the images below to fold them like an orchid flower:
Be sure to check out all of the other beautiful products they offer HERE.
Which do you like better? Hosting or being invited to someone else's party? Write in the comment section below!
In partnership with Living Threads Co. As always, all views are genuine & products are truly loved! Help support the brands who support VeiledFree, so I can continue to bring you quality content. Thanks for stopping by my little world changers! #sponsored