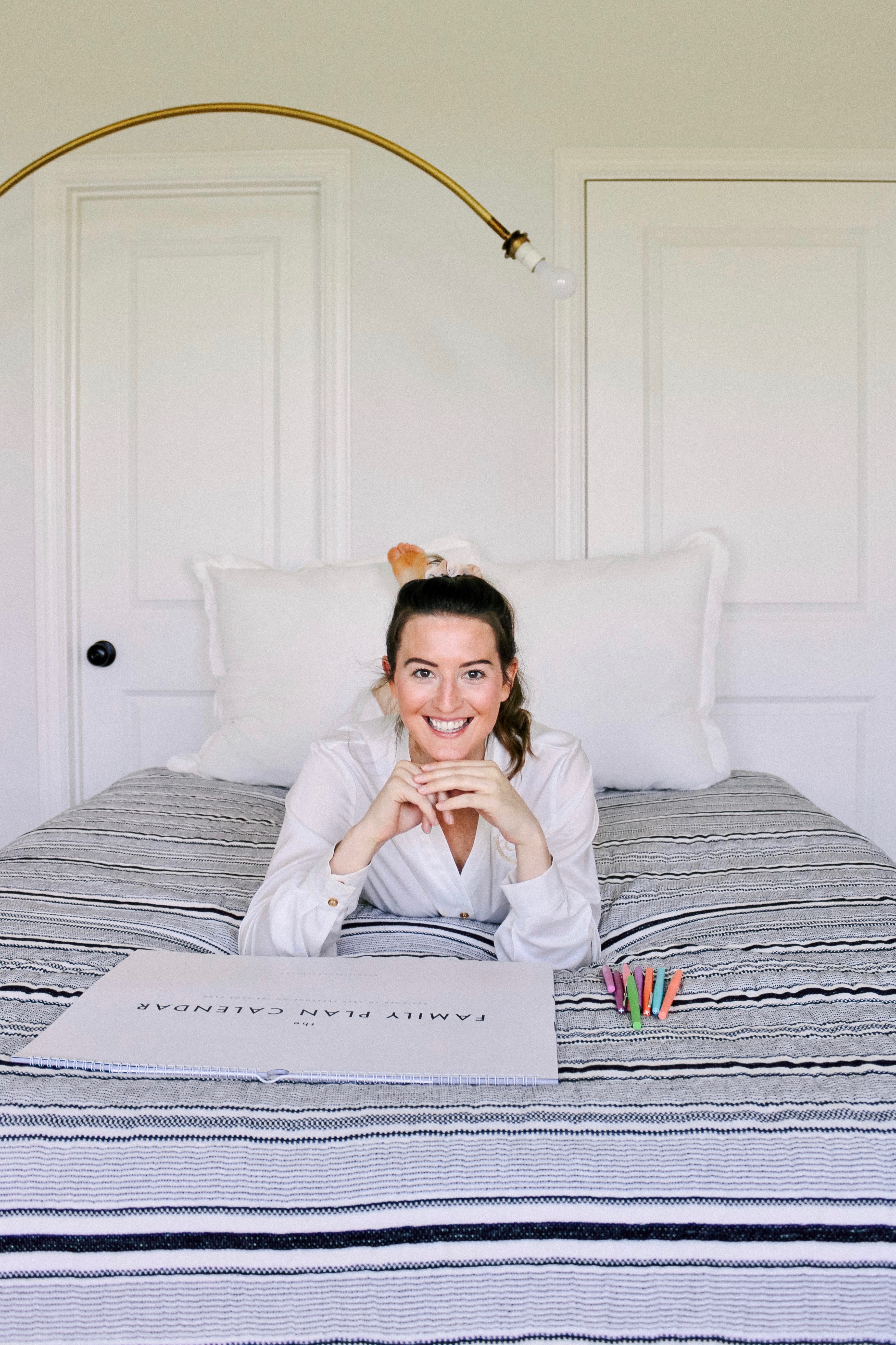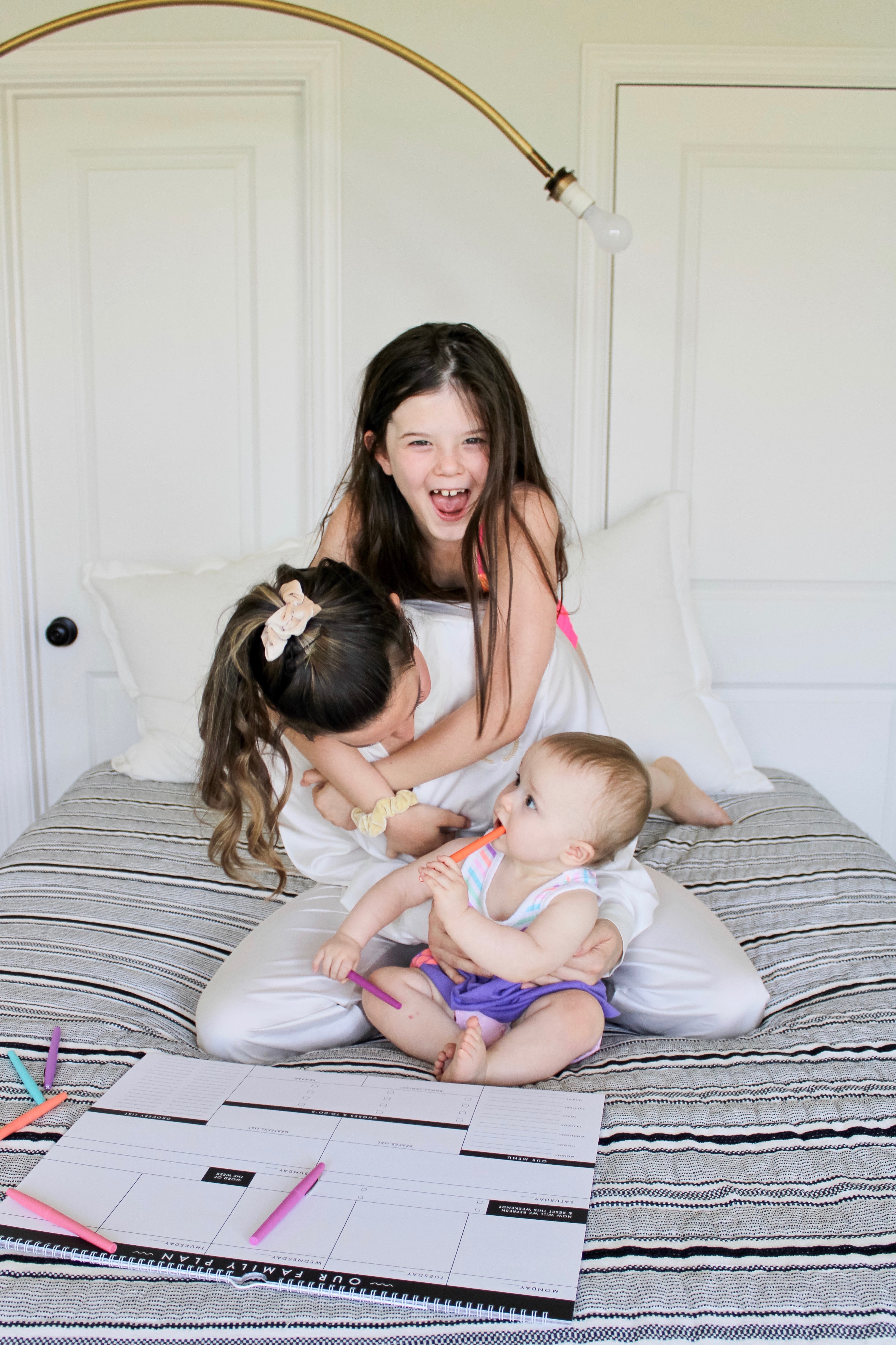 My first rule for managing a family plan calendar is (drum roll please)…
Lower those pesky little expectations of yourself, sister. 
If you've been reading VF for awhile now, you know I'm a big fan of designing the life you love. I'm your encourager and online friend, but I [sometimes] fear that my optimism has been mistaken for perfectionism. The very last thing I want to do is encourage you to meet unrealistic expectations for yourself, because life is absolutely not perfect for any of us and will never be the way we envision it exactly. Once we truly accept that reality though, we can THRIVE. Adaptability is key around here. Mommas on the street that look like they have all of their ducks in a row are either:
a). lying to themselves
b). a nervous wreck (or angry) behind the scenes
OR
c). they really do have their ducks in a row (with room for them to wander out of line). These mommas are not superhuman – they are good at navigating the DAILY occurrences where life just hasn't quite lived up to their expectations and they move on quickly.
Inclusivity is necessary.
I have a pretty small family. Audri, Averi, Paul, Myself, and Zoey.
One simple, weekly wall calendar works well for our tribe. I use a family plan calendar that streamlines alllll the things. Paul and I sit down every Sunday night and plan out the week ahead. I grab my personal planner, birthday calendar, content calendar, markers and stickers. He grabs his phone. We put the kettle on. We make a thing of it. The kids are in bed and the house is quiet. It's actually quite nice and something to look forward to! Plus, it's a lot more productive than having separate calendars, separate conversations, separate expectations for who's coming over when, what time Paul gets done with work, soccer practice, school events, and what's for dinner. I used to be in charge of family planning, but Paul has really enjoyed being more involved lately.
Focus on one section at a time.
Start by numbering the days of the week (adding in those special days at the top). For instance, my nephew's birthday is coming up and that needs to be remembered/celebrated so it goes next to the date!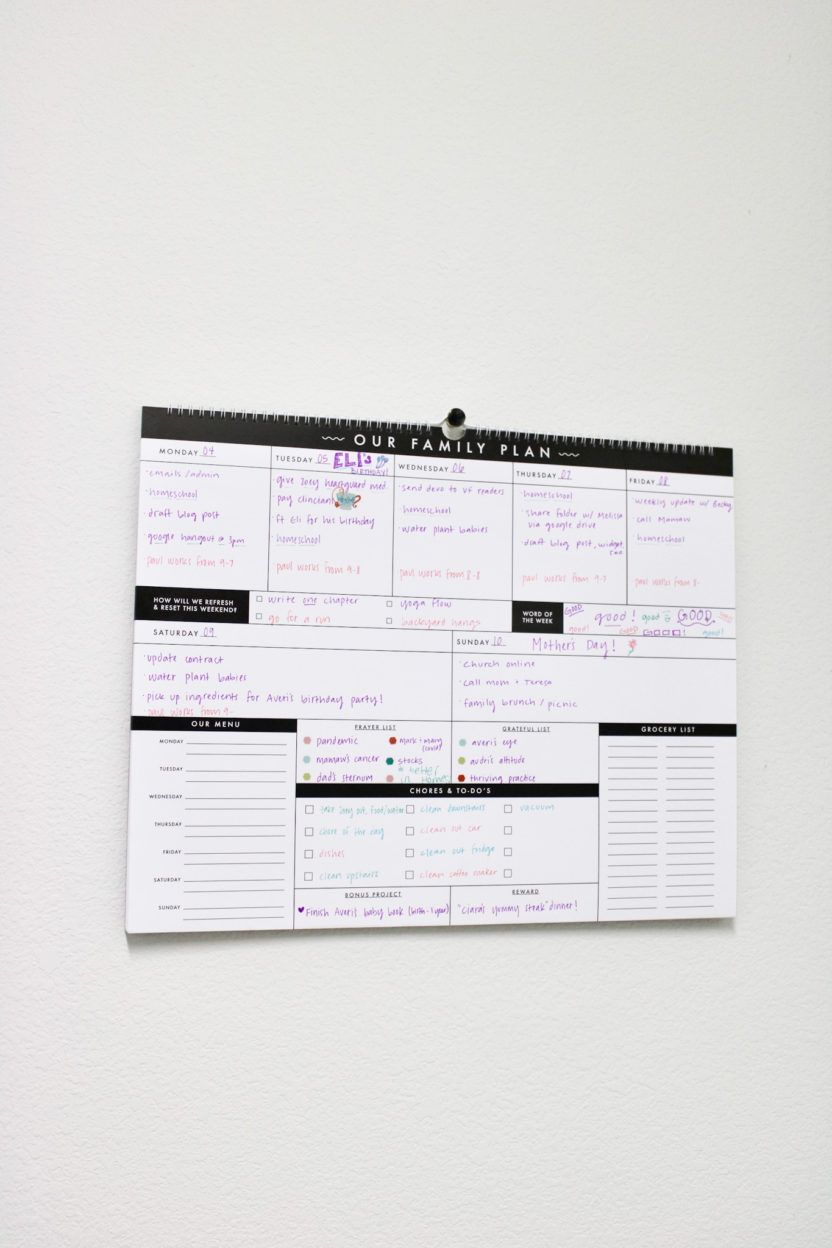 From there, move on to all of the different sections with intentionality and a listening ear. Everything else in life feels pretty rushed. Let this be a time of togetherness, focus, and hope. Set your intention word of the week together after some discussion. Talk about your grateful list. Decide what you want for dinner together and make a grocery list that compliments that. As other grocery items come up throughout the week, add them to the list.
Paul and I have a prayer whiteboard underneath our bed. We started this in 2016 and it's a great way to see prayer requests become praises! However, some things are private and we don't want the girls reading them. I like the prayer section on my family plan calendar, because Audri can add to it without invading our privacy. She's able to watch her prayers become praises and I'm able to watch her faith grow in God.
Paul and I color-coat the chores section to designate certain ones to certain people. This is a great way to communicate who's in charge of what without even having to talk about chores throughout the week. If the chore is in your color, it's yours to do.
Take it slow and be intentional. 
I'm not a planner by nature. I'm spontaneous and love diving into the unknown. I thrive on change and challenge, you get it…
However, I realized immediately after becoming a momma, how ridiculous that part of my personality can be while trying to manage a family, a marriage, a household, a career, etc. So, eight years ago, begrudgingly (haha) I became a planner person but kept my spontaneous nature. I invested in planners, I researched them, I got them for others, others gifted them to me, I bought the stickers, I downloaded the apps, and invested in the software.
I absolutely love my prayerful planner for daily tasks and spiritual growth tracking. You can read more about that here. BUT, that calendar doesn't work for managing everyone else's to-dos. The family plan calendar is designed to bring everyone's must-do's into one place so we are all on the same schedule (literally). It's helped us create streamlined structure, a common goal, and clear expectations of one another.
Whether you invest in the same planner I have or you create your own…make sure to give yourself wiggle room, be intentional, carve out the time to plan properly, include your spouse, and make the process enjoyable!
What do you use for family planning? Are you a digital or a paper planner person? Let me know in the comments and thanks for stopping by!