Skincare
Brazilian Beauty Secrets With Teadora
Jan 17, 2018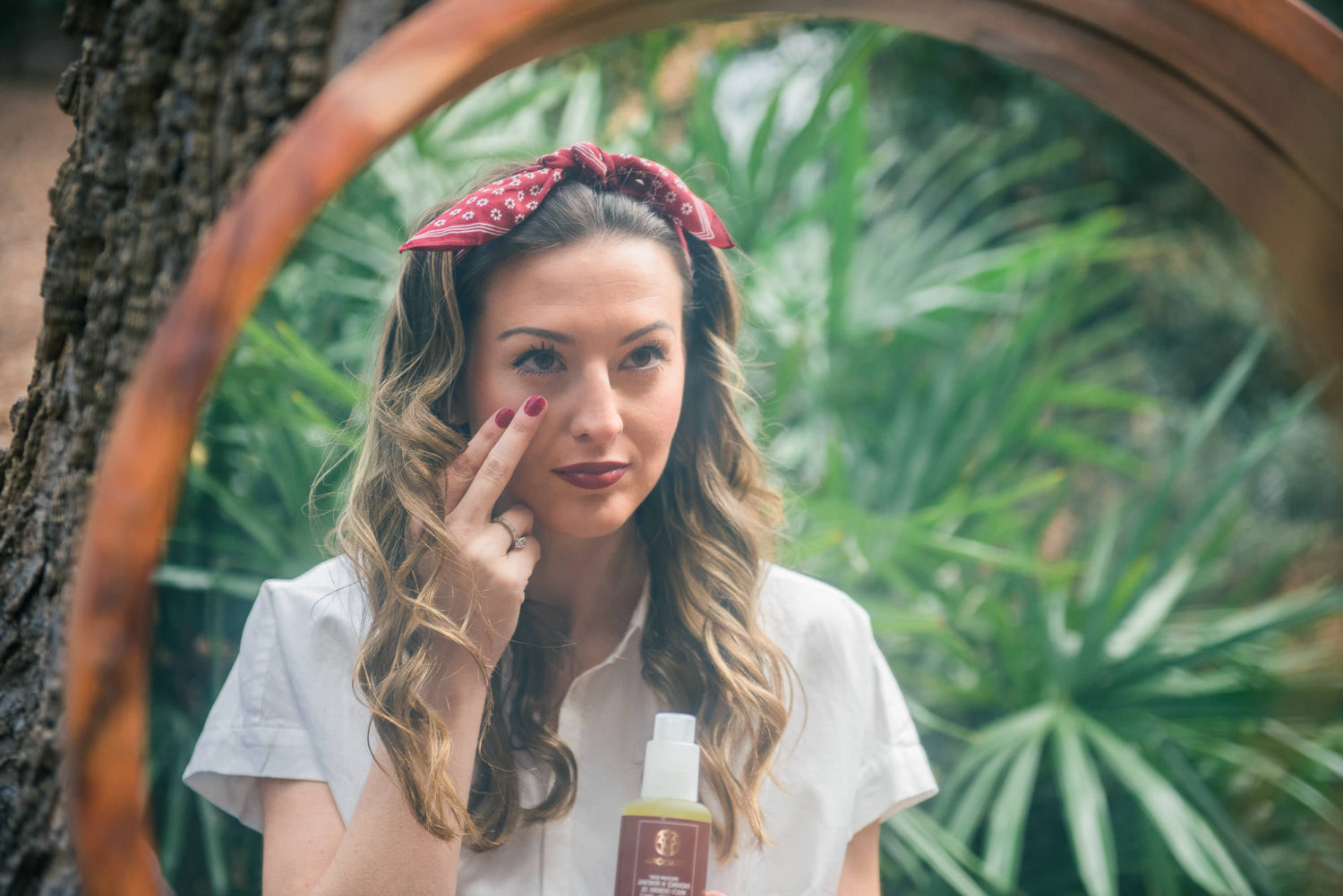 Teadora is a natural skincare line that offers something a little different…
Some of their ingredients in this multi-tasking oil include:
RainforestHydration(tm) Elixir – a proprietary superfood cocktail of antioxidant, vitamin-rich, natural, organic & active essential oils from exotic Amazon rainforest superfruits, combined with Argan Plant Stem Cells.
This unique blend of sustainable Brazilian Amazon Rainforest superfruit ingredients restores and relaxes the skin, so it feels toned and smooth.
The Brazilian Glow Radiance and Renewal Oils come infused with RainforestHydration Elixir, a combination of 5 amazing superfruit oils (Buriti, Babassu, Brazil Nut, Maracujá + RoseHip Seed), full of free radical-fighting antioxidants, vitamins and oleic and fatty acids that help to revitalize your skin. This is what I'm using below.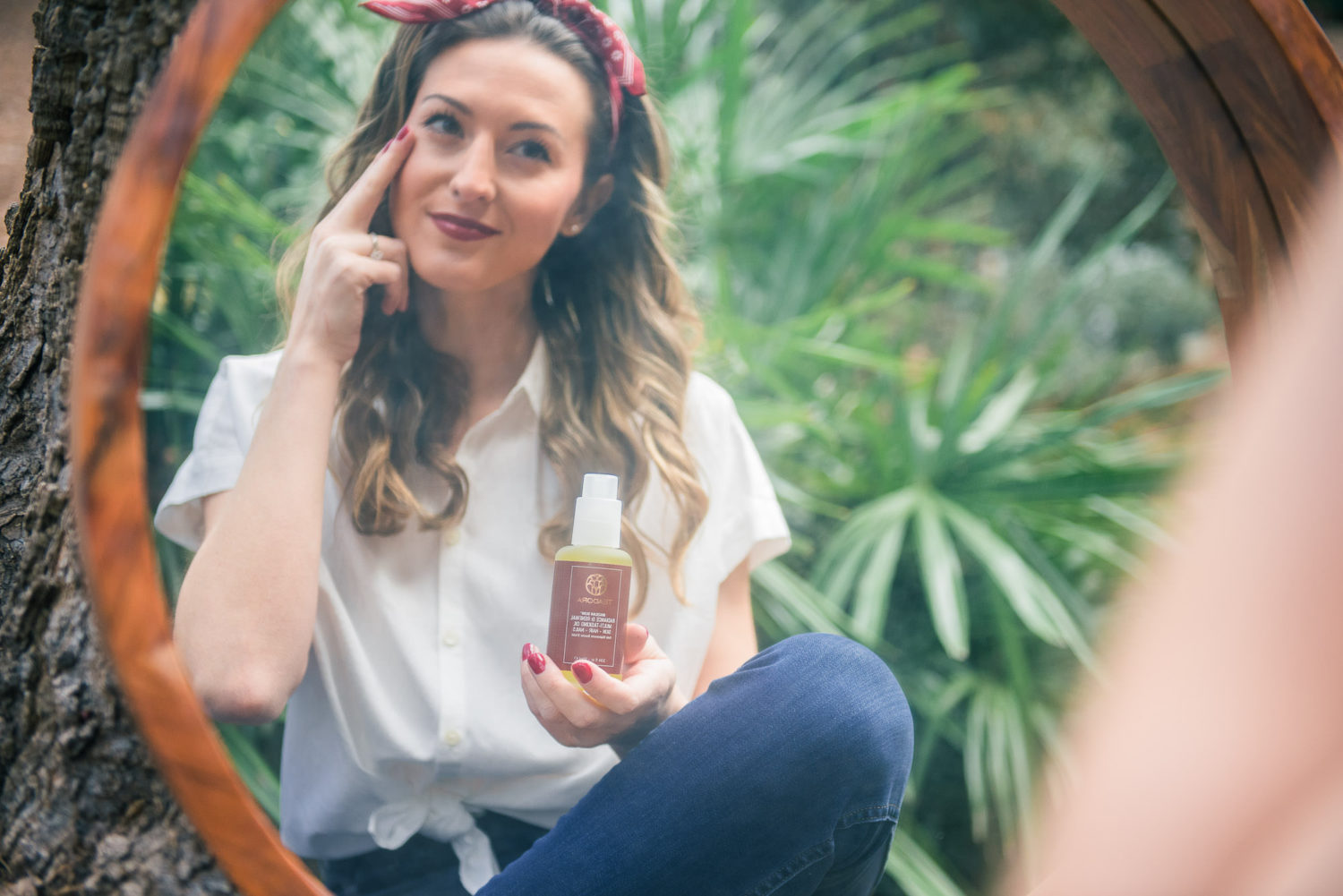 Buriti is an amazingly powerful ingredient. It contains the highest concentration of natural vitamin A among fruits and vegetables. It is also rich in Vitamin E, Vitamin C and antioxidants and has been used for generations as a natural UV ray protectant. Its amazing anti-inflammatory properties also help to promote skin healing.
Maracujá (or Passion Fruit) is known as the "Pure Miracle" in Brazil as it brightens, moisturizes, heals, and repairs skin and hair without feeling greasy or heavy. Good for all skin types-from dry to oily.
Brazil Nut is a light, sweet, and nutty oil that is wonderful for the entire body. It absorbs quickly, and provides powerful moisture and healing to the skin, hair, and face.
Babassu is made from the nuts of wild-growing Brazilian palm trees. It is also a more effective skin oil than coconut oil. It is high in essential acids to cool, sooth, protect, restore, and moisturize any skin type.
Plant Stem Cells, teadora uses stem cells from the Argan tree to help rejuvenate your skin's middle layer, where wrinkles start. It is known to protect dermal stem cells reduce the appearance of wrinkles, tighten and tone skin tissue and  increases skin firmness and density.
This Radiance and Renewal Oil provides intense moisture, softness and restoration to the skin, for long term prevention of flakiness and younger-looking, more supple skin. I can't get enough. Purchase it on Amazon for $40 here.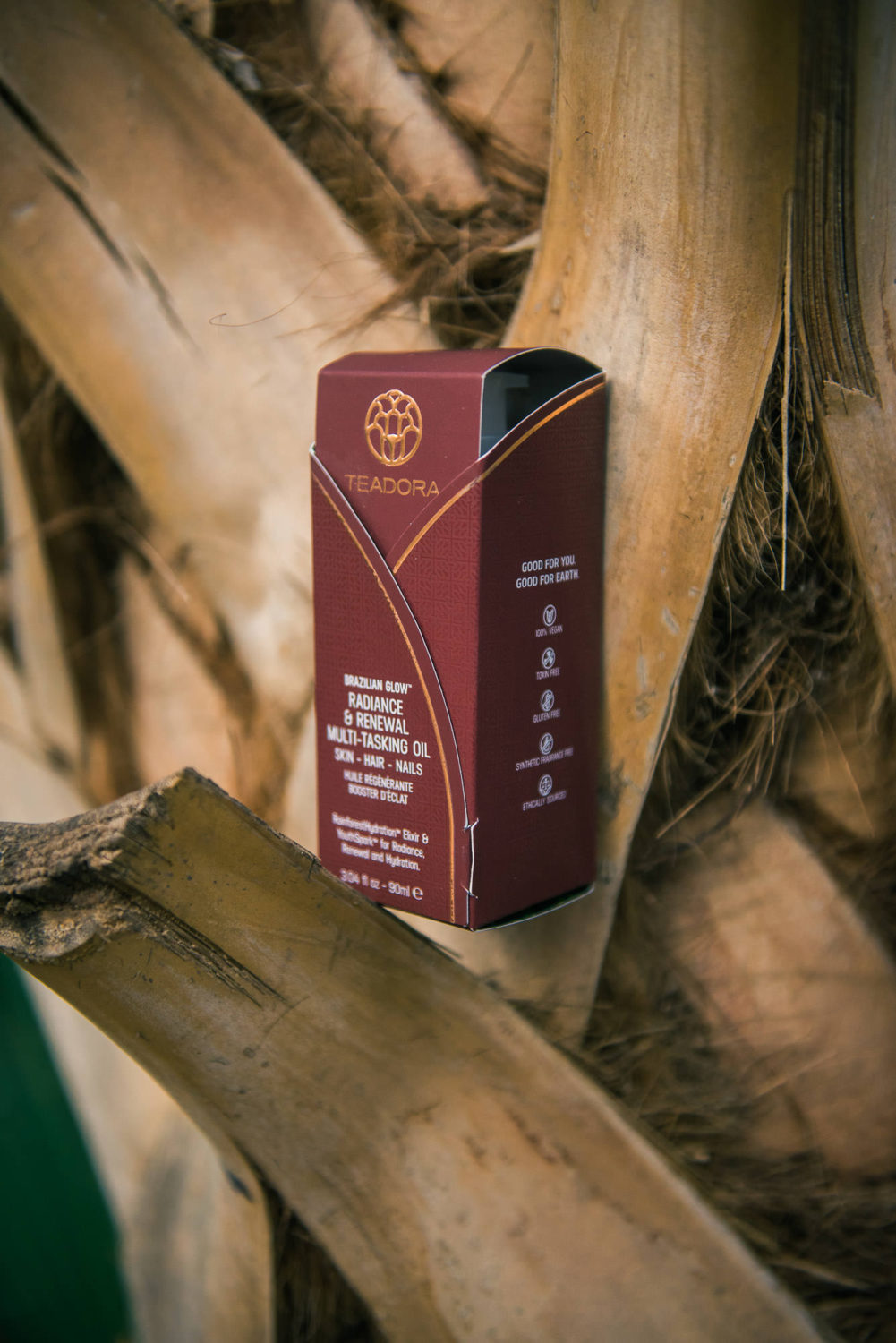 How To Use It:
Use it as an anti-aging serum in the mornings prior to make-up application and at bed time.
Use it before your foundation as a primer or combine with your favorite facial moisturizer for reduction of fine lines & glowing, healthy skin
Use it as a facial cleanser and/or make-up remover
Use is as a whole body moisturizer for dry cracked skin, absorbs easily
Use it before or after shower for moisturizing & protection or a luxurious & exotic bath oil, their natural solubilized ensures it dissolves well in your bath water
Massage a couple of drops on scalp before shampooing for scalp help. Use a couple of drops at the ends of hair when dry for split ends and shine
Massage on your nail beds for stronger nails
Use it on dry/cracked areas (elbows, knees, etc) through out the day for healing and repair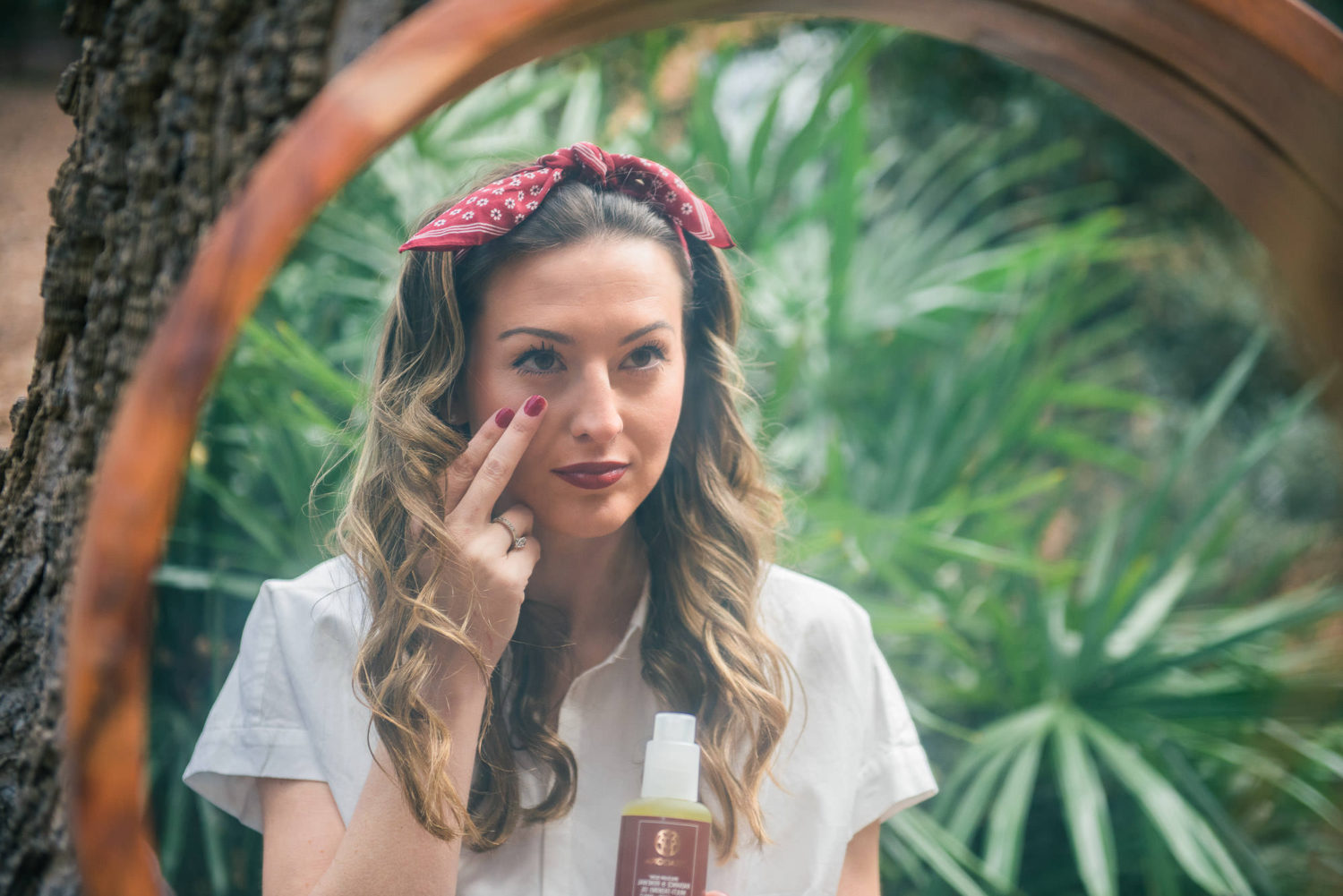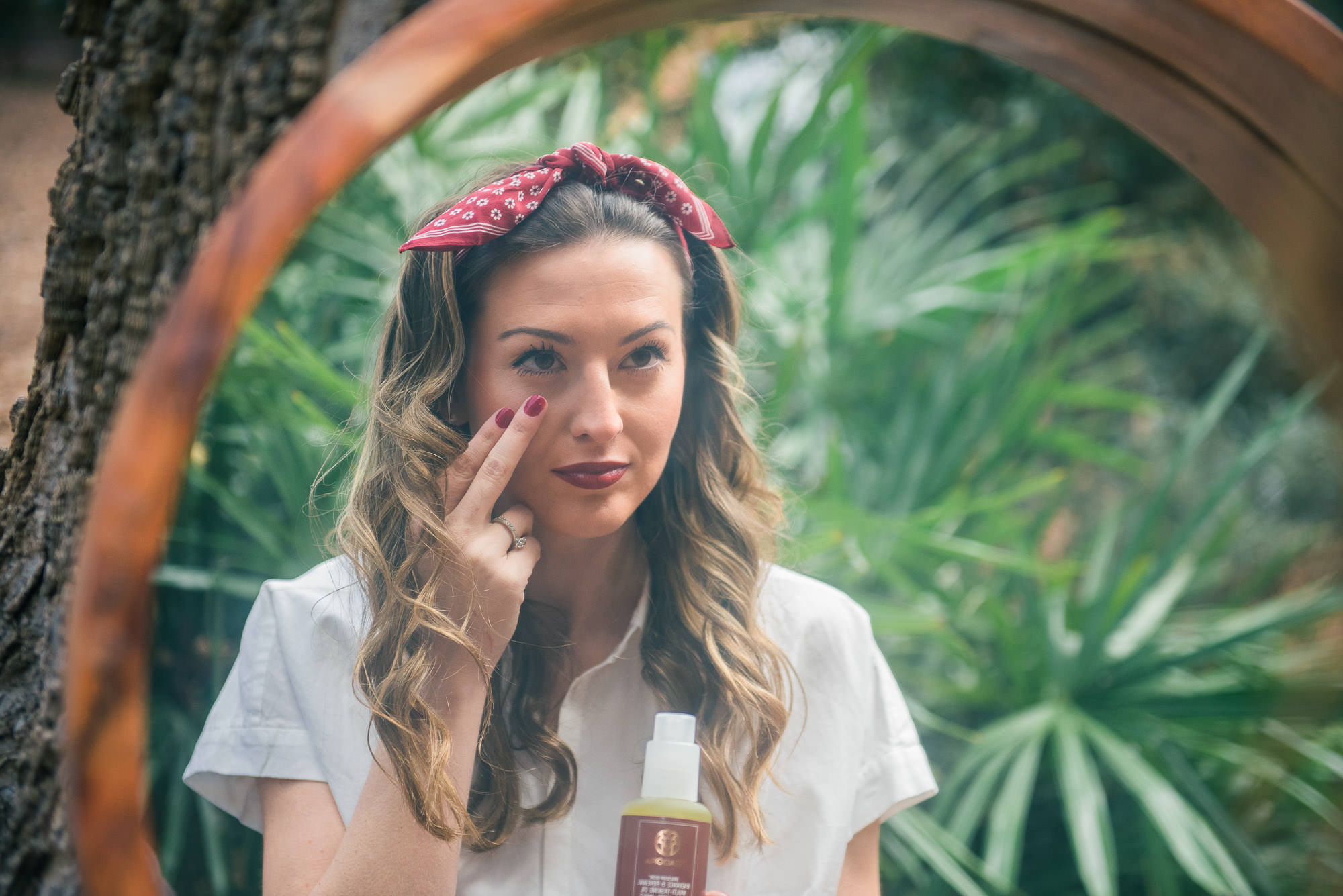 Now that you know what the multi-tasking oil does….
Let's move on to the mist I'm using below.
The Anti-Pollution Facial Mist by Teadora is a unique blend of antioxidant-rich superfruit botanicals and powerful actives complex they call YouthSpark. It's crafted with hyaluronic acid, marine plankton, Aquasense and other actives to help protect and refresh your skin from the ravages of exercise, air travel, changing climates and pollution while helping to reduce the appearance of fine lines.
The mist fights free-radical damage and eliminates toxins from exposure to sun, pollution, and other ravages of day-to-day life. I take it with me everywhere I go. Purchase it on Amazon for $38 here.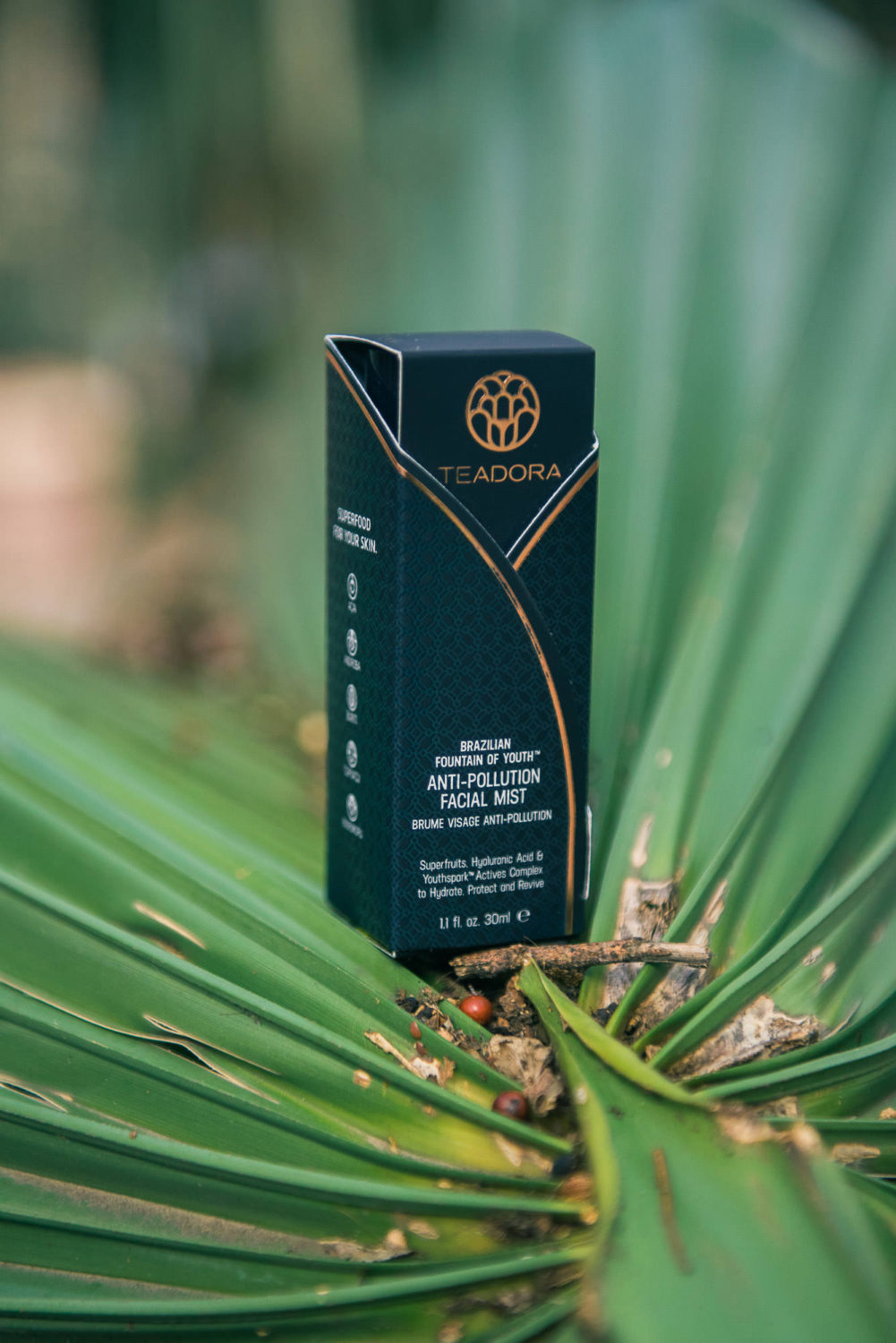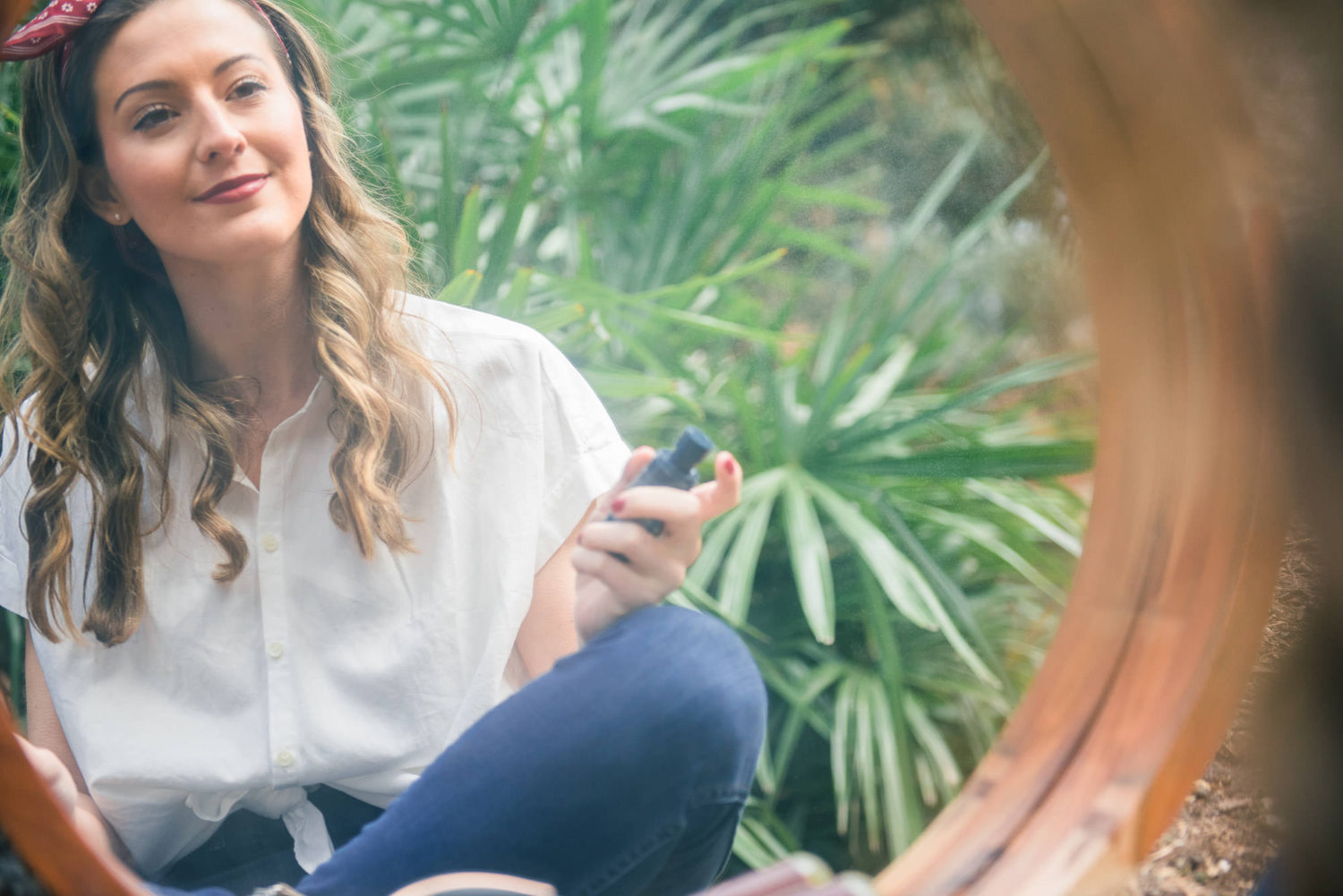 How To Use It:
Active primer
Portable, all-day antioxidant protection against free-radical damage
Protects and refreshes skin
Plumps and hydrates skin
Helps reduce appearance of fine lines
Eliminates toxins from skin
Provides instant illumination and glow
Sets and revives makeup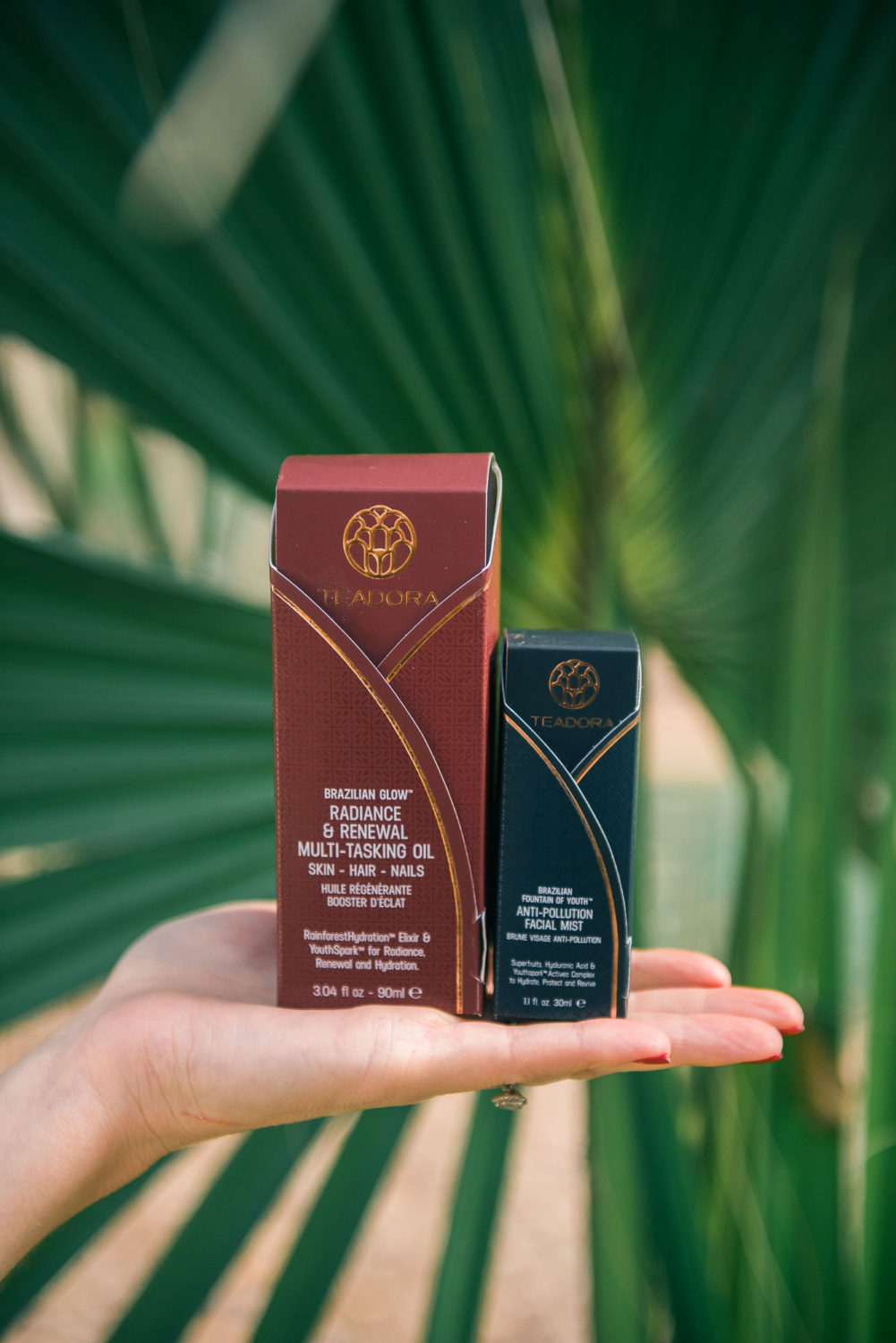 Want to help preserve the rainforest?
When you purchase Teadora products, you are supporting sustainable agriculture in Brazil to help stop rainforest deforestation. 1% of your purchase funds the rainforest conservation efforts through their  EARTH FOR YOU. YOU FOR EARTH project. Their mission is to replant 1 million trees & preserve 75K acres of Amazon Rainforest.