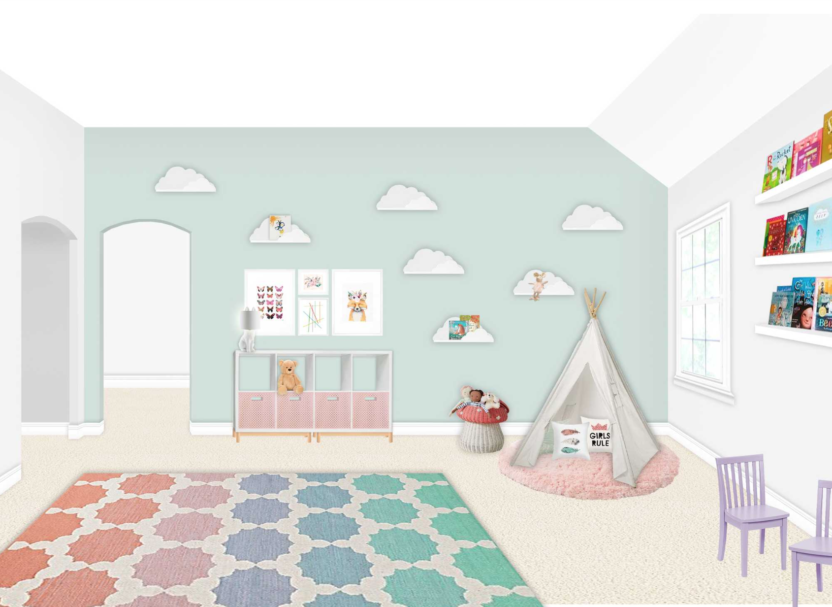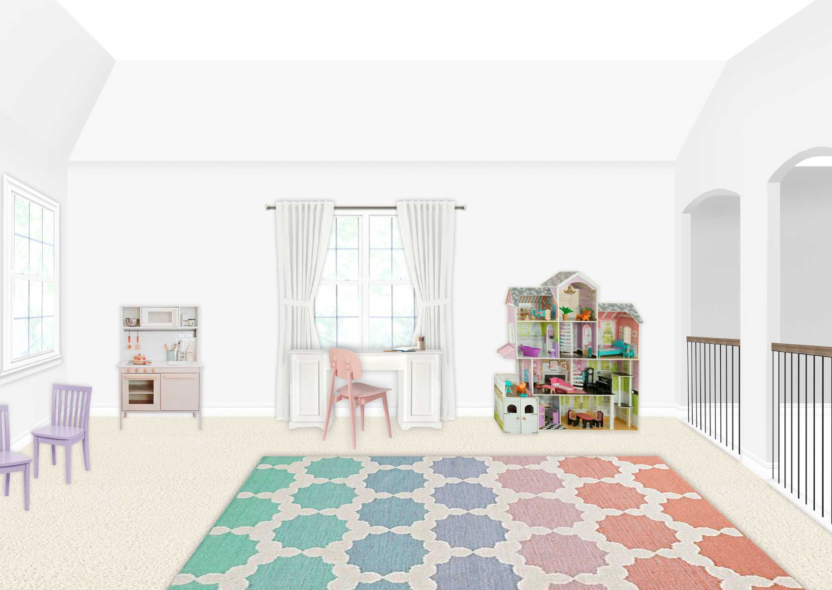 Playroom design is interesting. It's personal. It's less about "the overall look" and more about practicality. It's all about creating a space that children love and are excited to use for years to come.
I will walk you through my process so that you can re-create this playroom design or dream about a playroom project of your own.
Storage Solutions
Audri and Averi have a lot of things. Most of these things come from grandparents, school projects, holiday celebration, crafts, etc. That said, I needed to find creative ways to store it all.
I moved my white shelving unit into the playroom and nestled the girls' toys inside of pink and gold storage boxes that were on clearance. Each box holds a lot, and is organized efficiently. The pink ones are sold out, but you can click the picture of the blue storage box below to see 31 other colors and patterns:
I also use this adorable, woodland mushroom container for storage, because it's a great accent piece. It holds a lot more than the picture makes it look. You can click on the heart icon to get notified when this item goes on sale:
As I was trying to sort and store everything, I realized I needed to break the room up into Audri's interests. As a 7 year old, she still enjoys playing pretend. She pretends the teepee is a top secret agent hangout or a reading nook for "calm time" so I stored her books on the display shelves nearby. She pretends the kitchen is her very own restaurant called "Change-y's" so this is where her chef set, tea set, cash register, and fake food are stored. She pretends to be a performer by dressing in costume, singing, dancing, and playing the piano so this is our concert area complete with a sound system and disco light. She pretends to be a teacher with her whiteboard and she stores her craft supplies in her "work/desk" area.
Designated Areas
My digital designer suggested that I make the left wall (as I'm walking in) the accent wall. She chose a nice blue paint and added clouds for a sky. She said these cute cloud shelves have their own space rather than competing with the display shelves on the far back wall. Click the picture below to grab a few of these awesome shelves:
Most of these cloud shelves showcase Audri's arts and crafts. My designer suggested that I display homemade art on the wall so that Audri felt special – that her art mattered – that mommy was/is proud of her. You can see her mermaid painting, her paper flowers, etc. She eventually noticed what I was doing, and decided to hang a coloring on the wall herself. Sidenote: always screw shelving units into the wall, because your children will crawl on them when you aren't looking. 😉
We added the "play all day" neon light above her little kitchen to add height and make that space look bright and airy. This fun sign makes her "restaurant" more realistic, and she enjoys turning the sign on when her store is "open" for the day.
Some extra thoughts on realistic and practical playroom design:
Leave the space open for room to play and so that you can move things, change things, and add things as the kids get older.
Think less about a theme and more about the colors and the feeling you want. My designer and I tried to stick to pastels, bright, airy with hints of the whimsical woodlands theme.
Seating is important. Grab a love seat, some chairs, a teepee or something. My designer added in a fuzzy pink rug under the teepee for extra comfort while playing and reading!
Try to make everything "usable". For instance, my designer had the idea to use the large rug for hopscotch.
It doesn't have to be Pinterest worthy. Let the children decorate with you. It needs to be lived in, not a space they are afraid to play/create in. I showed Audri several different mood boards and she ultimately decided she liked this look best.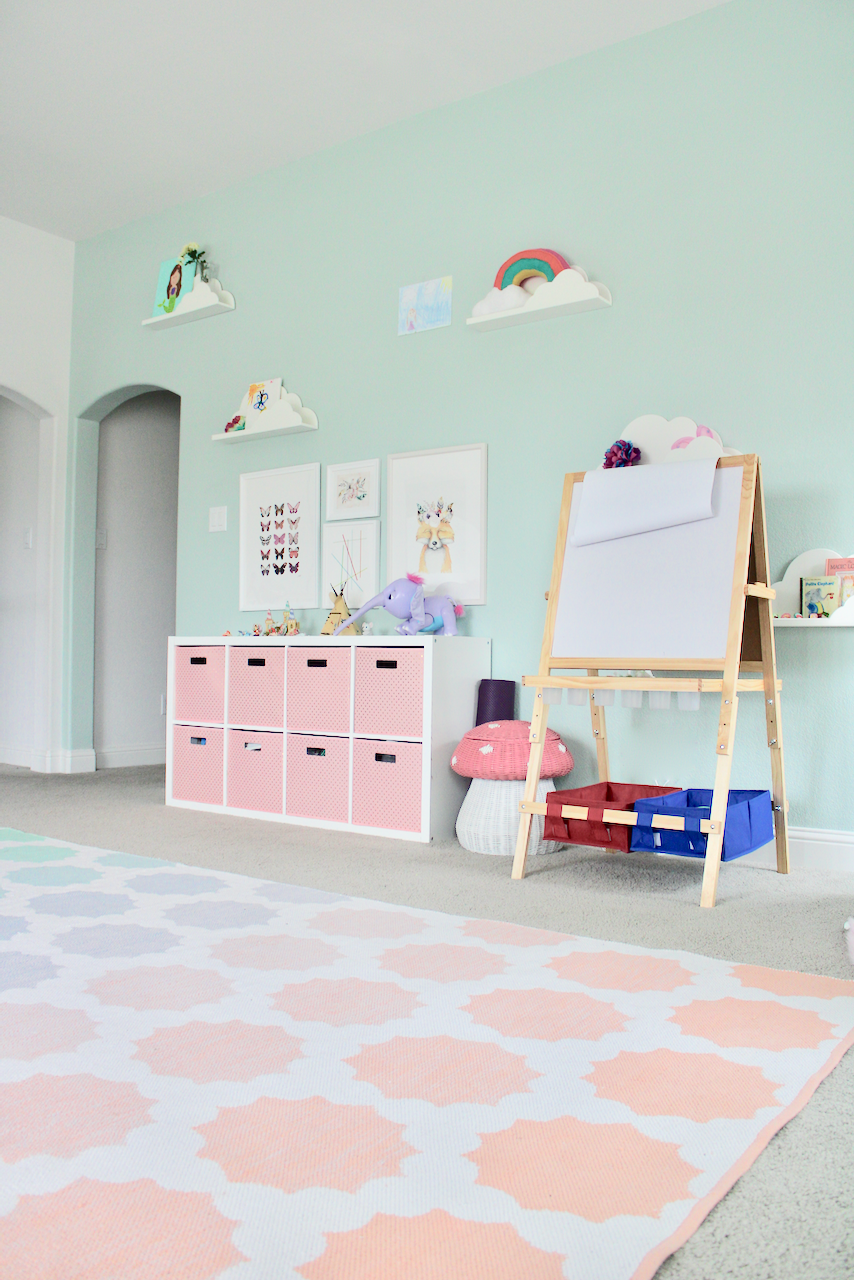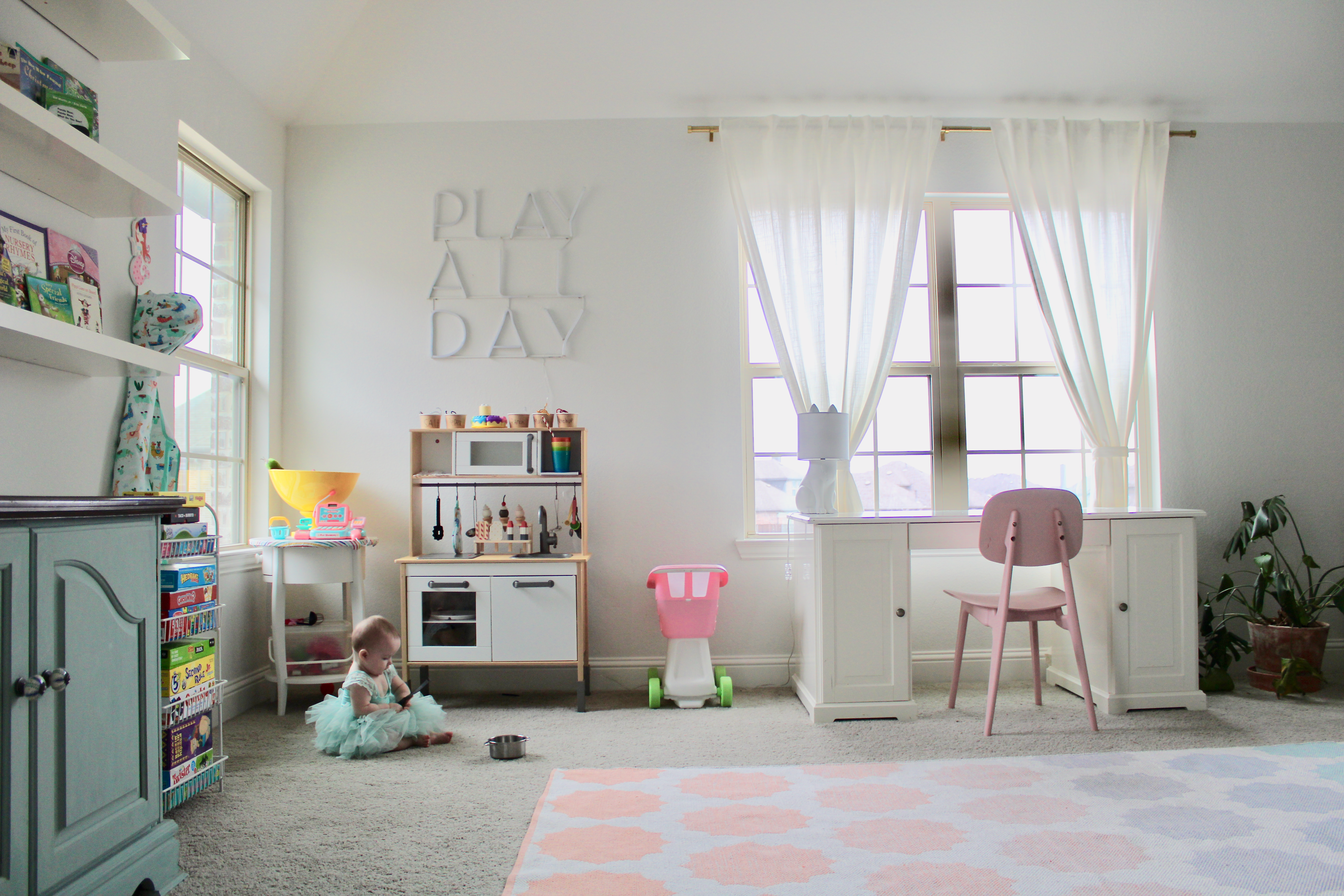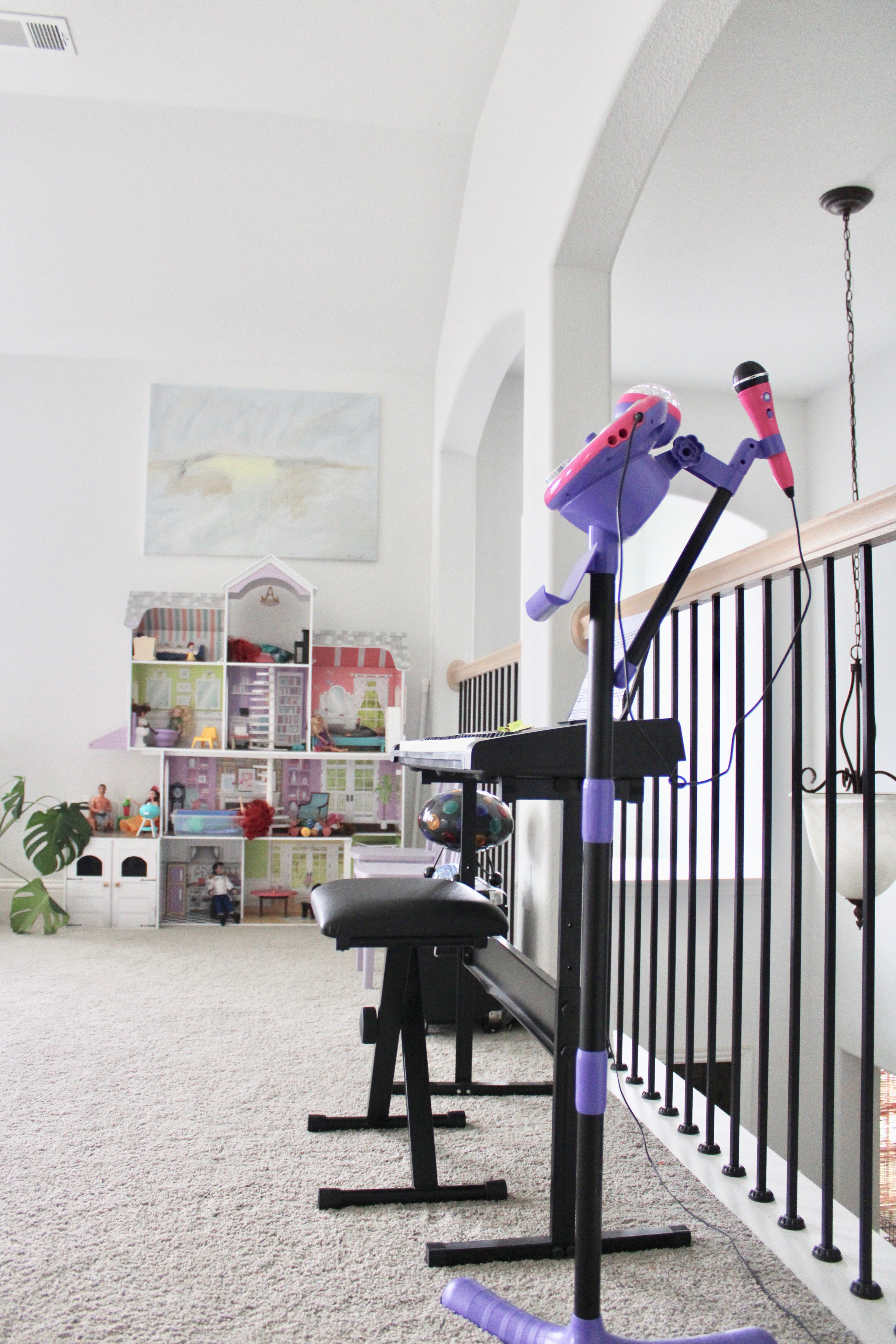 Let me know of any questions you have in the comments below, and thanks for stopping by!