Recipes
Grapefruit Recipe that's Healthy and Tasty?
Mar 22, 2017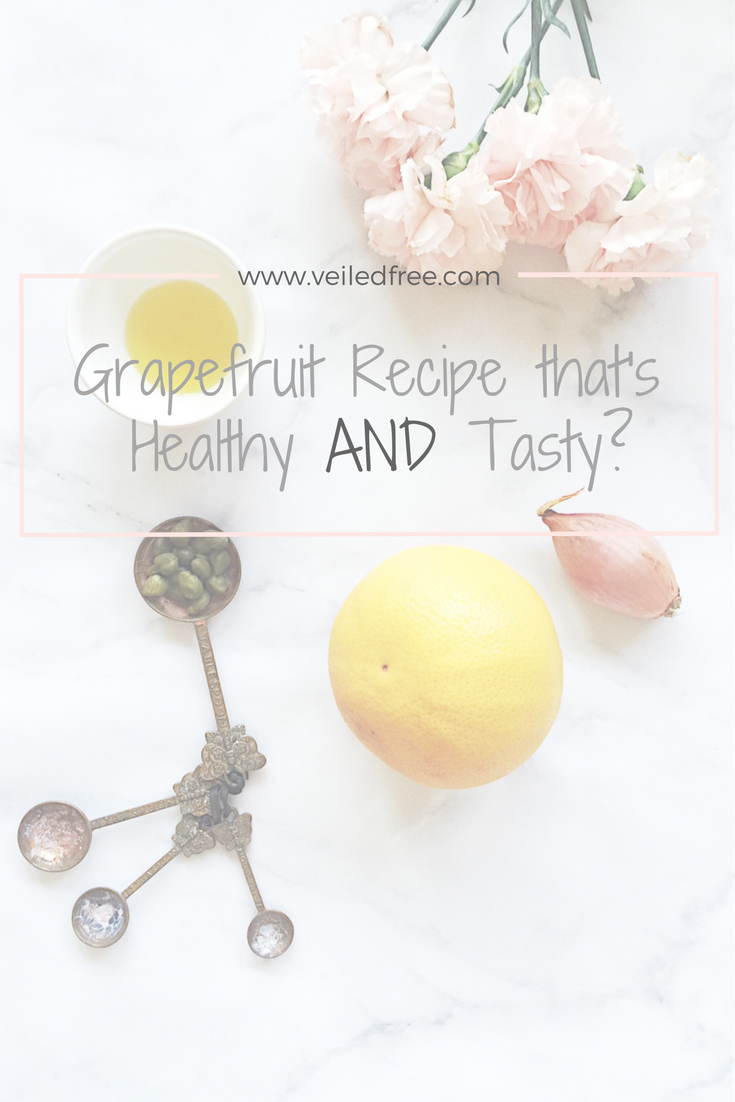 Grapefruit is hard to eat by itself because of the sour aftertaste. Oranges are just more flavorful, and I'm positive that 90% of the world agrees with me on that. 😉
But I eat grapefruit for breakfast, after a workout, and I include it within meals from time to time because I can't deny its' nutritional value: vitamin C, A, B1, fiber, biotin, copper, potassium….to name a few!
I've tried cooking with grapefruit a lot this winter, and all of the dishes tasted okay.
But this week, I tried a recipe that I actually like because it's healthy and covers up the tart taste! I made it twice this week. Once with capers (ew) and once with olives (yum).
I served my fish with a side salad and avocado because…..I'm obsessed with avocado anything…..as you know by now. Haha it just never gets old! 🙂
2 medium red grapefruit
1 tablespoon extra-virgin olive oil
1-1¼ pounds tilapia
½ teaspoon kosher salt
¼ teaspoon black pepper
3 tablespoons finely chopped shallot
1 tablespoon chopped green olives or capers (personal preference), rinsed
1 tablespoon butter
2 teaspoons honey
Cut the pith out of one grapefruit, and remove the peel and membranes completely (or the texture will be hard to eat). Cut grapefruit into small segments. 

Juice the second grapefruit into a mixing bowl.
Heat 1 tablespoon extra-virgin olive oil in a large nonstick skillet over medium-high heat.
Cover both sides of fish with ¼ teaspoon salt and pepper. Add fish to the skillet and cook until opaque in the middle, and flaky to the touch (usually 5 mins per side). Remove to a plate and cover with foil or something to keep warm.
Add 3 tablespoons of finely chopped shallot to the skillet and cook, stirring, until starting to brown, (usually 2 minutes). Add the bowl of grapefruit juice, 1 tablespoon of olives (or capers), 1 tablespoon of unsalted butter, 2 teaspoons of honey and remaining ¼ teaspoon salt and cook, stirring, until the sauce has thickened to your preference (usually 2-3 minutes).
Remove from the heat and stir the pieces of grapefruit into the sauce. Serve the fish with the sauce on top.
I decided to mix tilapia with grapefruit because tilapia is mild and versatile.
It's not as nutrient rich as salmon, but it's a great source of lean protein and tastes less "fishy". So much so that my 4-year-old daughter asked for a second helping…..#praisethelord
Tilapia is offered in stores everywhere, but I always make sure mine has this "Responsibly Farmed" label on it before I purchase.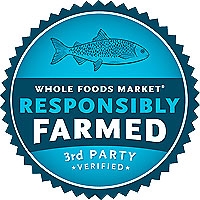 This indicates the fish has been farmed according to strict Aquaculture Standards and has been audited by a third party to ensure that the standards are being met.
If you try this recipe for dinner one night, let me know how you like it!
You may also like