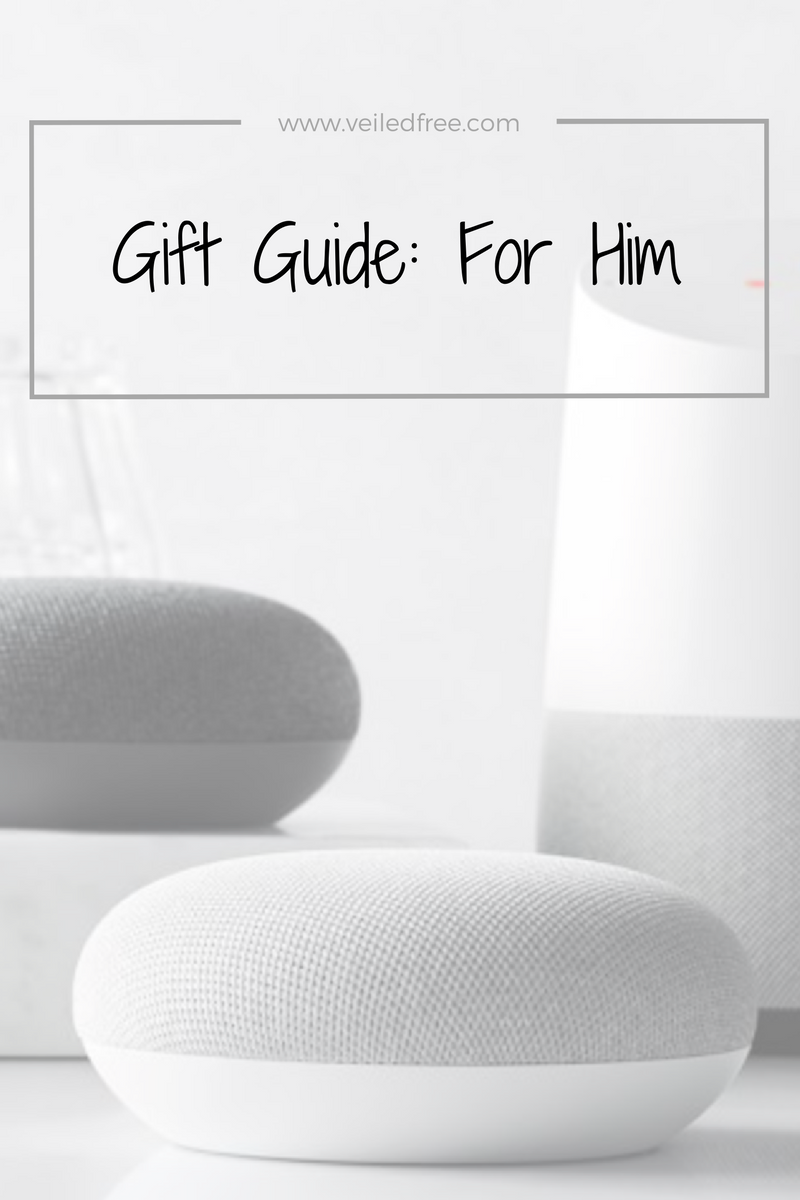 Gift Guide: For Him – Under $100 (click on the bold words or images for more product information)
Google Home Mini – I've heard it has better sound quality than the popular Amazon Echo Dot so I know any guy who likes music will enjoy this! I actually asked for one of these for christmas this year. I will use it for alarms, cooking timers, etc. and Paul will use it to set reminders and listen to his playlists. Win win!
Classic Shave Soap – If the guy your shopping for likes vintage shave sets and razors, this is a cost-effective product that he will love. Especially if he struggles with razor burn…..this will soothe the skin for good.
Gele Organic Socks –  Anything by Ted Baker is amazing, so these socks will definitely be in Paul's Christmas stocking this year. These come in three other colors if you're guy likes variety.
Dad's Playbook – If your man is a father, this makes for a great gift. It's thoughtful, sentimental, and practical (which is a hard combination to find). I would even suggest that it be "from his child" and write a little note on the inside cover.
Mint Organic Lip Balm – This is another great stocking stuffer. I stick them in his work out bag, in his toiletries case, and his coat pocket. They smell great and it keeps his lips smooth during the winter. I found them on Amazon for $5 here.
Handheld Chill Water Bottle – This is really clever. Paul's ID, gym membership card, cell phone, cash, etc. can fit inside of this water bottle for a quick run, hike, or work out. Plus it keeps the water chilled so he can refill it all day at the office to stay hydrated.
Jack Black Shampoo+Conditioner – Paul's never tried this and I'm anxious to see if it helps his dandruff. He's tried a lot of products but I'm thinking the coconut oil mixed with the kelp will truly improve the condition of his hair. I'll keep you updated if it works!
Leather Watch Case – Love this leather option to provide organization and style to his side of the room.
Weighted Jump Rope – This is one of the best work out tools to gift your man. It truly can be used whether you are just beginning to exercise (and really aren't that into it) or if you exercise regularly.
Agent Natural Deodorant – If you've been wanting your husband to make the switch to toxic-free products, this is the perfect product. It's something he will use every day and it smells masculine so he'll love it. If you'd like to make the switch to natural products, I rave about my daily deodorant in this post.
Organic Beanie – This is made from baby alpaca so it's super soft and warm for these cooler temps! It comes in black, but I love the dark green.
Vital Balm Cream  – This nourishes the skin, repairs damage, and only needs to be applied before bed (after cleansing). Check out the ingredients list to see all of the amazing stuff inside.
Gift Guide: For Him – Over $100 (click on the bold words or images for more product information)
Marble Chess Set – Paul loves chess and uses it to play with some of his clients during therapy sessions. But any guy who likes classy and refined gifts will appreciate this hand-carved chess set.
Patagonia Retro Vest – This is classic, warm, and waterproof. Really anything from Patagonia is a must, because they strive to reduce environmental impact.
Tech Envelope – I'm going to give this to my father-in-law for Christmas. He loves technology and travels often for his job so this leather envelope will be the perfect addition to his briefcase.
Ray-Ban Aviators – Most guys like a good pair of aviators and Paul is no exception. He complains that thicker brimmed sunglasses give him a headache so I'm hoping these Ray-Ban skinny frames relieve the pressure. If you're not sure which style your guy would like, I suggest the grey/green or the black like in the image below.
Apple Watch – I love the Apple Watch, but this Nike one is water resistant and there's no glare from the sun.
Silk Necktie – These ties are made in Italy and will last forever. If your man wears a suit and tie to work, or just enjoys fashion, he will appreciate the quality.
Leather Headphones – These babies are durable and crafted to perfection. The sound amplifies all of the little sounds that most headphones don't catch. Music sounds the way it was meant to.
Mizzen + Main Shirt – If you haven't gotten a shirt from Mizzen+Main for your guy yet, this is the time. He will LOVE how soft they are. Plus he (or you) won't have to iron them because they are truly wrinkle-free 🙂
Cyber Monday Sales: