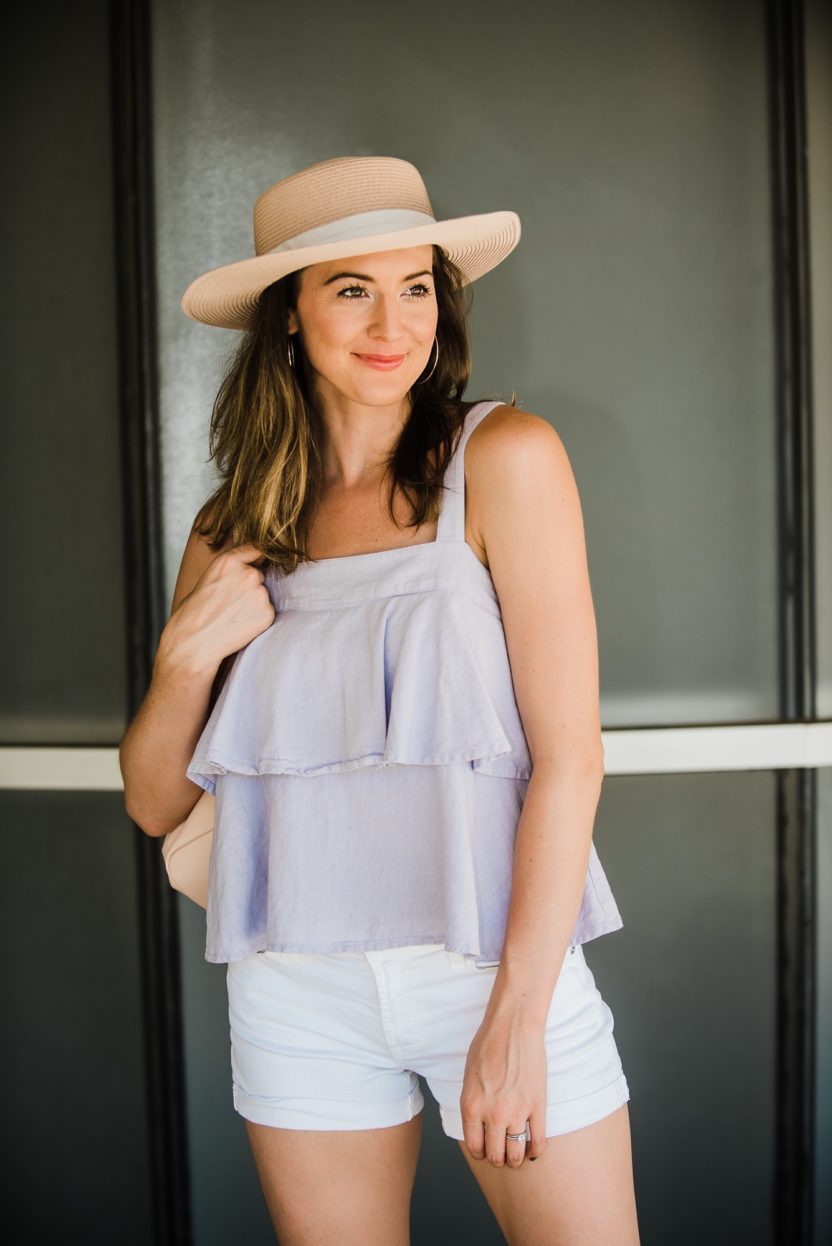 Yes, the title of this post is true…you can now shop the clothes you've seen on the blog from the comfort of your own home (in your pajamas while the kids are asleep or while browsing at work – no judgement)…
It's essentially an online garage sale for the woman who likes a deal (and convenience).
For instance, if you want this top, I'll ship it to you for FREE. All you pay is HALF of what I paid for it. I bought it for $20, so you get it for $10. The only thing I cannot cut is sales tax because that would be illegal.
Otherwise, I'm offering free shipping and free returns if it doesn't fit. 
Creating my
Shop
has taken hours upon hours of work, and it's definitely not going to be a money making venture for me.
The reason I'm selling my beloved clothes for half of the original price is because I want to encourage you to shop pre-existing clothes in order to cut down on new production.
I talked a little bit about how crazy the fashion industry is in this post but today I want to invite you to learn why it's detrimental to our planet with me.
I don't want to recommend that you buy something if I don't really know what's going on with the company behind the scenes.
That's reasonable, don't you think?
Lately, I've been asking brands what my clothes are actually made of, how the workers are treated, and what exactly their process is from start to finish.
Some companies don't respond except to revoke their sponsorship offer, and others are 100% transparent with me.
My relationship with fashion will continue to change as I become more educated about the ins and outs of the industry itself, but I want to inform you of what I know so far.
I have discovered some of the very real consequences that fashion has on society and it's SCARY.
A lot of people say that the fashion industry barely makes a difference on the planet and I couldn't disagree more.
I've been doing a ton of research and I am astonished at how powerful the industry really is.
It is one of the four most polluting industries in the world.
The destruction to our environment is tangible.
The average t-shirt wastes 700 gallons of water during manufacturing.
Just 1 pound of textiles emits more than 7 pounds of C02.
Textile waste creates pollution and waste precious resources.
Some countries exploit women at work.
They don't get maternity leave
They are sexually abused regularly
They don't earn enough money to take care of their children.
But because it happens in places like: India, Bangladesh, and Cambodia, it becomes out of sight, out of mind to us.
I'm not saying any of this to judge you. I have no such right.
I honestly think the blame falls exclusively on the unethical fashion brands, and those that exploit women in the first place.
While other bloggers come out with new products, as that's the natural next step in this kind of business, I'm asking you to please consider shopping my online boutique of gently worn items before purchasing something new from a store.
The more we can recycle each other's clothes, the less material ends up in landfills, and the better impact we've made on the planet together.
All of my clothes are high-quality, barely worn, and dearly loved. I tried to describe each item in detail so you know what you're getting, but if you have a specific question about an item send me an email: ciara@veiledfree.com
You can click on the images below to read more about the item:
You may also like