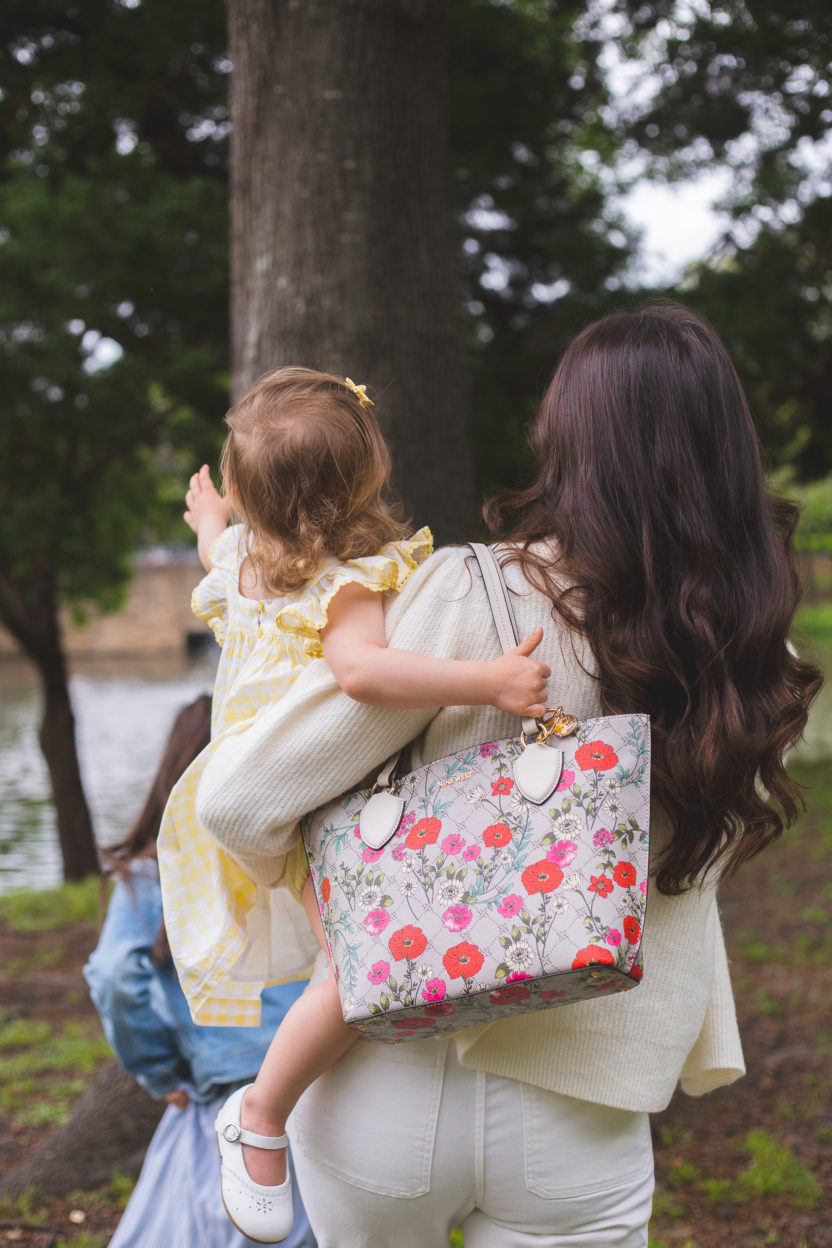 Details:
Turtleneck, Cardigan, Jeans, Handbag, Block Heel Sandals, Audri's Jumper, Audri's Sandals, Averi's Dress
One by one, Audri removed worn-in princess dresses from her wardrobe rack and stuffed them inside of a pink container. I told her the reason that I had kept them out was to serve as a visual reminder that she had them. You know, for all of her "concerts" she puts on and all of her "shows" that she would invite Papa and I to upstairs. If they were stuffed in the container, she would forget them when it was time for dress up. She looked at me and said,
"I know, Mom. It's okay, I don't really want to play dress up anymore. Thanks though."
Tears filled my eyes as I walked downstairs looking around the living room, touching the dining table, thinking that her childhood might be coming close to an end. Staying at home and raising children full time is challenging. Working in corporate and leaving Audri in day care when she was 9 months old was challenging. Working part time and wearing many hats throughout the day – every day – is challenging. Being a good mother and example is challenging. But, there is nothing in the world that feels better than when I'm squeezing Audri's hand or holding Averi in my arms. Nothing makes me feel happier or more accomplished than knowing my children are observing my character and growing into their God-given potential. All of it matters. Children see and hear all of it. Happy Mother's Day Weekend to my mother, Janet. You are the most incredible woman I know. Happy Mother's Day to my Mamaw, the one with the heart of gold. Happy Mother's Day to my sister-in-law, whom I would have chosen as a friend even if you weren't family. Happy Mother's Day to my aunt, Yvonne. Your conversations and support are unmatched. Happy Mother's Day to my MIL, Teresa for raising the man of my dreams. The journey to motherhood comes in many forms. For me, it looks like single parenthood, blended families, miscarriage, natural births. For you, it might look like infertility treatments, infant loss, unplanned pregnancies, planned pregnancies, home births, or adoption. Though our paths are unique to us, our emotions are shared. Happy Mother's Day to you and the story of yours.
You may also like