Fashion
Fall Fashion For Warmer Weather
Aug 31, 2020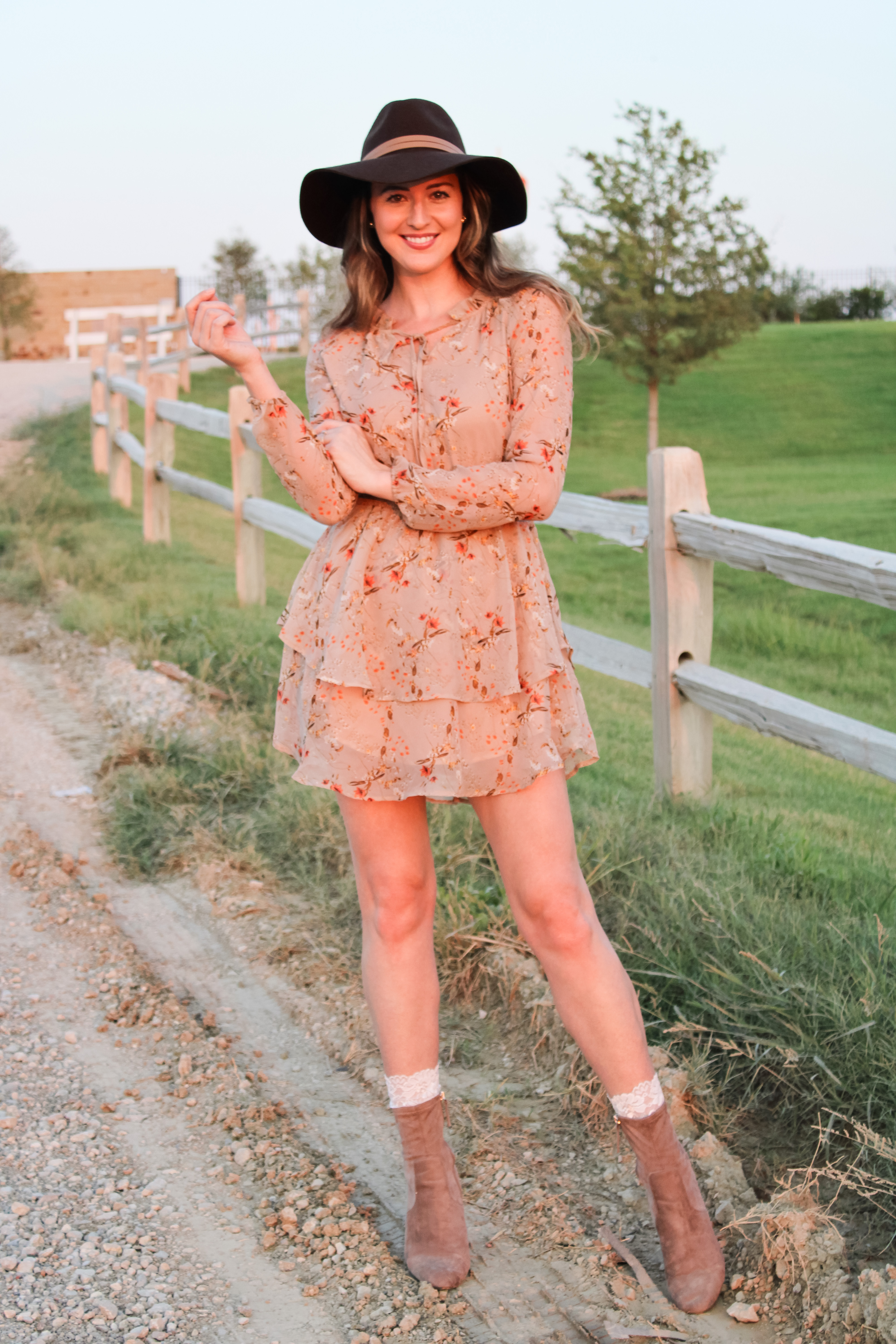 Outfit Details:
Floral Smocked Dress, Echo Bootie (similar here), RP Hat (sold out, similar here), Faux Lace Accessory
When I think of fall fashion, I think of layers. Bundled up, holding a warm cup of coffee, snuggled in layers of scarves, hats, jeans, cardigans, and sweaters. This airy dress evokes that familiar feeling of Fall but is breathable enough for our record-breaking heat. And, by the time cooler temperatures arrive, you can layer this feminine dress under a jacket for warmth. A denim jacket or a trench coat will do the trick. You could also trade out bare legs for tights. Or booties for over the knee boots. This smocked floral dress is only $35 and comes in 9 different colors to choose from. You can read the reviews here. Click on the arrows below to see this dress styled with and without a hat.
Orange and white florals adorn this dress beautifully. The smocked waist accentuates and flatters every body type. I'm between 5'9 and 5'10 and it is barely long enough. If you are 5'9 or shorter, the length of this dress will fall perfectly. If you're taller than I am, be advised. Style this dress down with a pair of sandals for a backyard day date. Click on the image below for sizing info.
This can easily be styled for transitional seasons, and it could also work for next Spring. The beautiful silhouette and timeless pattern will pair nicely with a classic flat for whatever the day brings. Click on the image below for sizing info.
This Victorian-inspired dress would be gorgeous with a pair of booties for a special evening this Fall. Click on the image below for sizing info.
You may also like